Using a Dakota Alert to trigger your OrsonEye
The built-in camera motion detection doesn't work well for outdoor scenes, but The Dakota Alert is perfect.
The sensor is wireless and battery powered so you can put it in just the right spot to trigger your OrsonEye when something interesting happens.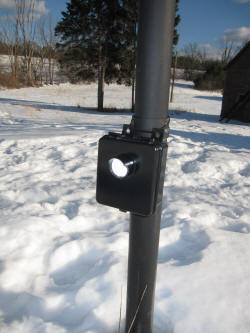 Here are some great shots I've gotten with my Dakota Alert triggered OrsonEye...
| | | |
| --- | --- | --- |
| Deer | Fog | Turkeys |
| Fox | Hawk | Rain |
| Birds | More birds | High res deer |
You can put the receiver right next to your OrsonEye camera and connect them with a short cable.
207W or 207MW camera

<---(wire)--->
Dakota Alert reciever

207 camera

You can buy the Dakota Alert here...