OrsonEye Picture of the Week
"Bear Race"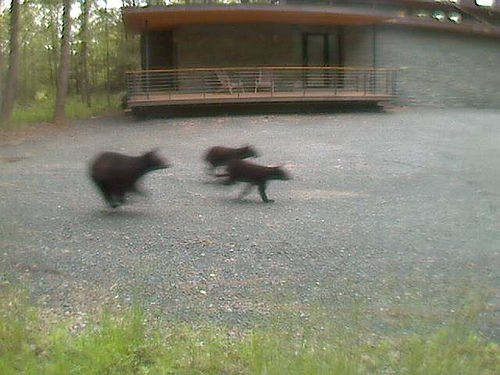 What is OrsonEye?
OrsonEye is free software that lets you use a small, cheap, and easy network camera to automatically upload images to Flickr.
Now almost anyone can set up a camera to watch and record anything without needing to worry about...
Setting up port forwarding and firewalls so you can access the camera
Buying an expensive DVR unit that never works anyway
Buying and configuring fancy and expensive CCTV cameras and cabling
With OrsonEye, you just get a camera, load OrsonEye on it, and then point it at something.
To see your recorded images, you can go to Flickr anytime and from anywhere and browse. Check out the public OrsonEye on Flickr here.
Why upload to Flickr?
Flickr turns out to be a fabulous place to keep your images!
Flickr is off-site so even if your camera is stolen or destroyed, at least you'll still have all the images it took right up until the last moment.
Flickr is big so you can store lots and lots and lots of images and never have to worry about filling up your hard drive.
Flickr is reliable so you'll always know your images available when you want to see them.
Flickr is ubiquitous so you can see your images from anywhere on the internet.
How do I set up OrsonEye?
Get a compatible camera

Set up the wired or wireless camera on your network so that you can see it from your computer (don't bother with all the complicated stuff, just get to the point where you can see the homepage of the camera from your computer)

Run the online OrsonEye setup wizard
How does OrsonEye work?
Once you install OrsonEye, it will automatically upload an image to Flickr every time it is triggered.
By default, OrsonEye is triggered by motion as seen though the camera, but you can also set up better ways to trigger like a driveway car detector or a proper motion detector or a door sensor.
To see your captured images, you just go to Flickr from any computer on the internet. The last page of the setup wizard will give you a direct link to your images that you can add to your bookmarks.
What can go wrong?
Not much.
Every time your camera is powered up, OrsonEye will upload a "powerup" image to Flickr so you know it is working. If you don't see this image within a minute or two after installing OrsonEye, you have a problem. If you see this image any other time, that means that your camera lost power at some point, so at least you know you might be missing something. Maybe the image just before the "powerup" image will be a shot of someone pulling out the plug.
By default OrsonEye will also upload an image every day at noon, so if more than 24 hours passes without a new image you know something is wrong.
Finally, OrsonEye will turn the light on the front of the camera red if it runs into any problems.
Here are some problems (in order of likeliness)...
Camera is unplugged. The camera can not work without power. Plug it back in. If you have lots of power failures, consider getting a UPS for your camera. For $50 you can keep your camera running for a very long time, and as soon as the power comes back it will start uploading all the exciting images it captured during the outage.

The network connection is down. Check that the network wire is plugged in, check your DSL/cable router. If OrsonEye can not reach Flickr over the internet it will store any captured images and upload them as soon as the network is back up.

Reached Flickr free account limit. If you have a free account and upload more than 100MB of images in one month, Flickr will cut you off. If it is near the end of the month, you can just wait until the new month and the block will be lifted and all your stored images will automatically get uploaded then. Or you could just upgrade to a Flickr Pro account. Or you could switch over to using the OrsonEye public account. More info here.
Questions
For more info, contact: